The 9th edition of CULTOURFAIR, the only B2B trade show exclusively focused on the cultural tourism industry, held in Madrid, Spain, the following month of October 2nd - 4th. The event will take place at the emblematic Hotel Princesa Plaza, celebrating Madrid 2022, Capital Iberoamericana de la Cultura Gastronómica.
The program for the event offers an agenda of up to 30 preestablished appointments with rigorously selected buyers. All of them being executives belonging to the following sectors: tour operators, agencies specialized in cultural tourism, luxury travel, events, MICE, city-breaks, heritage, gastronomy, oenology, folklore, concerts, religious etc.
The workdays will include an exclusive networking program: welcome cocktail, work luncheon and networking dinner. Thusly, all contact with participants is ensured and your investment guaranteed.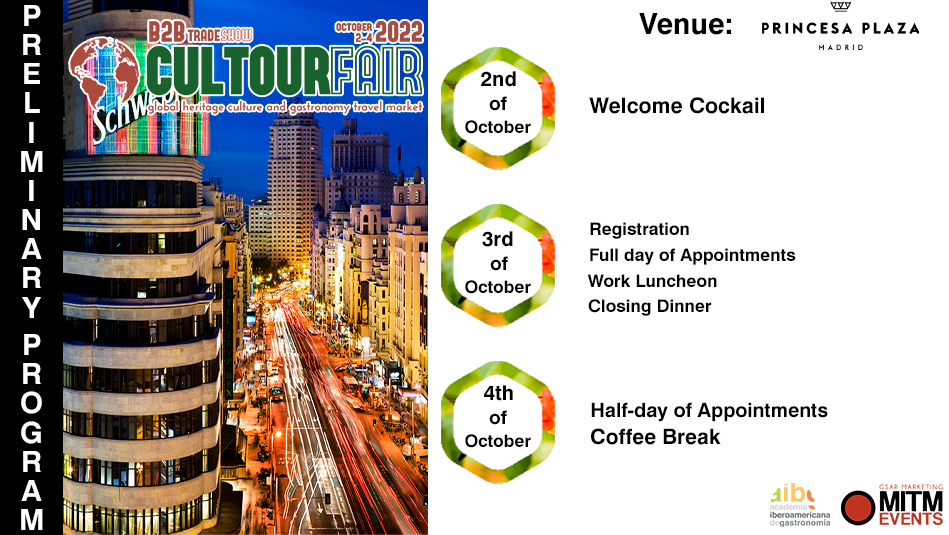 ONLY 40 SPOTS AVAILABLE
"It is a very engaging event; it facilitates a unique and effective way to promote the destination. I am very glad to have participated, interesting contacts that have allowed me to directly showcase the value of Madrid as a destination." Comunidad de Madrid, Raquel Recena.

"It was fantastic, groups, individual clients, gastronomic… I have already closed leads. We would love to participate again along the same lines, hosting the welcome cocktail ourselves." Hyatt Regency Hesperia, Silvi Buytaert.

"The companies found in this event are excelent, they originate from many different countries and that generates a balanced offer. I am thankful that MITM organizes these type of events, where new destinations meet new clients. The organization has been perfect, a good combination of professional meetings and social events." Ayuntamiento de Zamora, Christoph Strieder.

"Ayuntamiento de Cuenca, Ana Maria Chacon: "I thought it was fantastic! We are delighted! I'm noticing a lot of interest, this type of event seems perfect to me. Intense, but that's what we came for, the selection of buyers was very good, I have generated very promising business ties." Ayuntamiento de Cuenca, Ana María Chacón

"It has been very positive; the quality of the buyers is absolute. We have had the opportunity to meet with 30 companies through a dynamic pre-established appointment schedule. The format is a resounding success!" Grupo Intermundial, Miguel Gil Pérez.
Only VIP buyers are approved
More buyers than sellers
The preestablished appointments are announced via speakers every 15 minutes and are processed in the following order of priority: perfect match, exhibitor chosen, and buyer chosen.
99.9% appointment completion rate
Exclusive networking program to consolidate lasting business relationships
Completely closed to visitors protecting the exhibitor's investment.