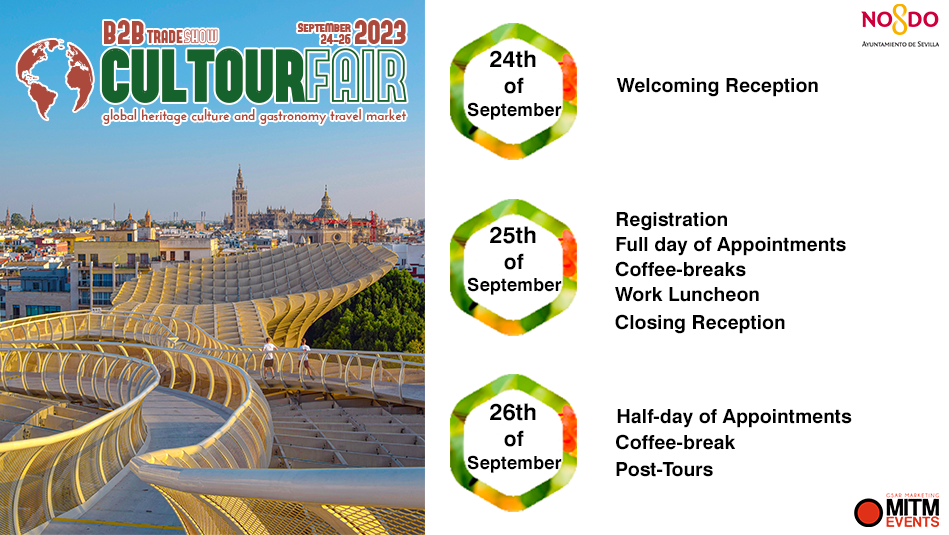 CULTOURFAIR – the only international, B2B, high-standing cultural tourism tradeshow in the world – returns to Sevilla!
The 10th edition of CULTOURFAIR – Global Heritage Culture and Gastronomy Travel Market – will take place from the 24th to the 26th of September. After two successful years in Madrid, the tradeshow celebrates its 25th anniversary at its place of origin, Sevilla.

CULTOURFAIR aims to position high standing cultural tourism and to this purpose selects 50 premium buyers – decision making directors and executives – specialized in: luxury travel, events (sports, musical, wine, gourmet, etc.), MICE, city-breaks, heritage, gastronomy, folklore, religious, etc.

The program for the event offers an agenda of up to 30 preestablished appointments with rigorously selected buyers. The workdays will be completed with a high-standing networking program, boosting contact between all participants and fostering business-links, thus guaranteeing a return on investment.
The previous edition of 2022 boasted more than 350 registered companies hailing from 48 countries, generating around 2,000 business meetings with an estimated medium and long-term economic impact of 200 million euros.
CULTOURFAIR has the support and sponsorship of Seville City Council.
Ayuntamiento de Zamora, Christoph Strieder: "The companies we find here are of a higher standard. They originate from many different countries and that generates a balanced offer. I´m grateful that MITM organizes these types of events. Here, new destinations meet new clients. Perfectly organized, a good mix of professional meetings and social events."
Blau Hotels, Begoña Menéndez: "Excellent tradeshow, we are very, very happy."
Procolombia, Ana Catalina Hernández: "We are delighted to have participated. Excellent buyers, magnificent organization."
Visit Malta, Francesca Vincenti: "A sincere thank you and a well done for CULTOURFAIR 2022. It was an absolute pleasure to attend this boutique B2B. The fact that the programme incorporated not only intensive meetings, but also interesting and entertaining cultural activities, gave rise for all to bond and strengthen relations with the international professional participants"
ONLY 40 SPOTS AVAILABLE
Only VIP buyers are approved
More buyers than sellers
The preestablished appointments are announced via speakers every 15 minutes and are processed in the following order of priority: perfect match, exhibitor chosen, and buyer chosen.
99.9% appointment completion rate
Exclusive networking program to consolidate lasting business relationships
Completely closed to visitors protecting the exhibitor's investment.